Update 10/6/16
The storm track continues its turn to the right away from the coast. It has strengthened again to a Category 4 and will be moving up the coast the next couple days.
Due to it's lessened threat, this will be our final update on Matthew unless the track changes.
Update 10/5/16
High Surf Advisory from 10/5/2016 1:02 AM to 4:00 PM EDT for Virginia Beach
Coastal Flood Advisory in effect from October 5, 08:00 AM EDT until October 5, 02:00 PM EDT
The track has shifted to the west a bit to hug the coastline near Florida, however the new models are showing a pushing offshore of the hurricane as it gets up near North Carolina.
This is a better outcome for us, but as of now we could still receive Tropical Storm force winds and rain.
The track is still uncertain but it is looking better for us.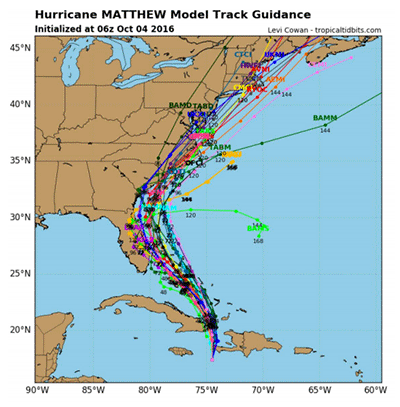 Update 10/4/16
Update from the Deputy Emergency Management Coordinator, City of Virginia Beach Fire Department – Office of Emergency Management:
"Matthew has continued its shift to the west and models now show it running up the coast. It looks to begin to cause us problems Saturday evening into Sunday. The American and European models are in agreement until it gets off the coast of NC and then it is a matter of the American moving it out quickly and the European holding it off the coast. Keep monitoring the storm and continue to make the preparations necessary for you, your families and your departments."
The storm is very slow moving – 6mph and continues to wobble. Once advisory puts the track to the east and out to see and the next is back to the west. Please be patient and continue to monitor the storm.
• Once Matthew moves near the southeastern Bahamas on Wednesday, it is forecast to turn northwestward or north-northwestward.
• The model guidance is in relatively good agreement through 72 hours, but begin to diverge by days 4 and 5.
• It is important to remind users that average NHC track forecast errors are around 175 miles at day 4 and 230 miles at day 5.